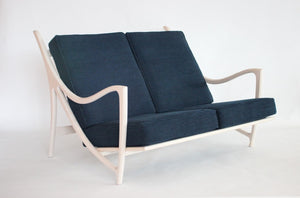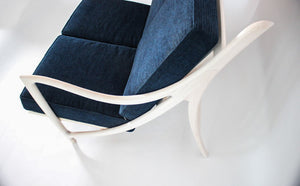 Blue Spoon Lounge
The Blue Spoon Lounge is all about the curves. From the extreme to the more subtle, the curvature in this design gives a sense of whimsy and character.
Crafted in Rock Maple and midnight blue cotton linen blend upholstery with a Wittle wax finish. 
Dimensions: 1200 x 1050 x 850 mm.
Drawing from his background as a cabinetmaker / joiner, Steven Giannuzzi's pieces are unerring examples of fine craftsmanship. His penchant for curvature - from the sweeping to the subtle - often becomes a focal point of his work.
If you would like further information or to discuss shipping and payment please leave your message below.
{formbuilder:Njk3ODA=}
---