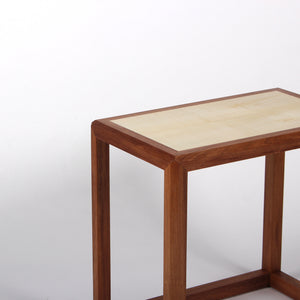 Coffee Tables | Side Tables
Side Table 17
Stephen Giannuzzi's side tables have been created with clean geometry and figured timbers.
They are available as standalone pieces, as a pair, or as an addition to their matching hall table to create a setting which can be tailored to your space.
They have been crafted in contrasting Blackwood and Silver Ash, with an Osmo Poly-x Oil Satin finish.
Dimensions: 550 x 345 x 520 mm
Drawing from his background as a cabinetmaker / joiner, Steven Giannuzzi's pieces are unerring examples of fine craftsmanship. His penchant for curvature - from the sweeping to the subtle - often becomes a focal point of his work.
If you would like further information or to discuss shipping and payment please leave your message below.
{formbuilder:Njk3ODA=}
---